•
RIH-cap of ANTI World Tour
The Queen is back! Nearly four years later, since her last album Unapologetic, Rihanna has graced us yet again with an amazing album. Prior to releasing the new album ANTI, she announced the ANTI World Tour with Travi$ Scott in North America and Big Sean in Europe.
I got the wonderful opportunity of seeing her live when she performed in Cincinnati. Opening for the concert was Travi$ Scott with songs from his album Rodeo, like "3500."  He also performed his features on tracks like "Upper Echelon," "Mamacita," and "Whole Lotta Lovin'." He saved the best for last with "Antidote," during which he jumped into the crowd and turned up with the fans, leaving the crowd revved up for Rihanna.
After a brief intermission during which the stage was set up, it was time for RiRi to stun the crowd. As soon as the lights went off, a giant background composed of mirrors caught everyone's attention. People began screaming as it lowered near the floor of the main stage. Little did we know that directly across from this distraction on the opposite end of the venue was a smaller raised platform with a mic in the spotlight. In a stylish outfit with a white hooded cloak draped over it, Rihanna made her way up the stairs of the platform and proceeded to open her show with "Stay." As her beautiful voice echoed through the arena, everyone began to join her by singing along. Meanwhile, I began to cry because I was finally in the presence of the artist I've looked up to my entire life.
As she was finishing her opening song, the music began to transition into "Woo," a song off her new album. As this played, she danced while a lifted bridge made its way toward her. She performed a couple songs from ANTI on the clear glass bridge as it slowly carried her above the crowd and onto the main stage. She removed her hooded cloak revealing a unique costume underneath with waist-high boots that were connected by a belt, and she greeted the audience. The best part was that she didn't jump straight into her new album, but instead began with several throwbacks for the day one fans. The crowd got hype from her hits "B*tch Better Have My Money," "Rude Boy," and "Umbrella."
"He want that cake, cake, cake, cake, cake, cake, cake."
After dancing to "Pour It Up" and a slower remixed version of "Birthday Cake," she did some other new ANTI songs: "Desperado," "Consideration," "Love on the Brain," "Same Ol' Mistakes." Of course, she did not leave out the song everyone was waiting for: "Work." As she performed it with her hypnotizing moves in a shimmering black bodysuit, we were secretly crossing our fingers, hoping the Drake would randomly appear out of nowhere like he did in Miami.
Besides the numerous successful songs of her own, she also made sure to include some of her best features: "Run this Town," "Love the Way You Lie," "Take Care," "Live Your Life," "All of the Lights." One of the concert's highlights was when one fan in the front row shouted to her that he could take the mic and sing for her. Rihanna's response was what made this moment memorable: "Listen to him trynna take my job and sh*t…Anyone else trynna steal my job from me?" Her effortless sense of humor and personality made me fall in love. Now THAT is an artist I'd love to be best friends with! She proceeded to sing "FourFiveSeconds," during which she shared the mic with the fan so he could sing along with her. Rih was shocked to discover he had an amazing voice too.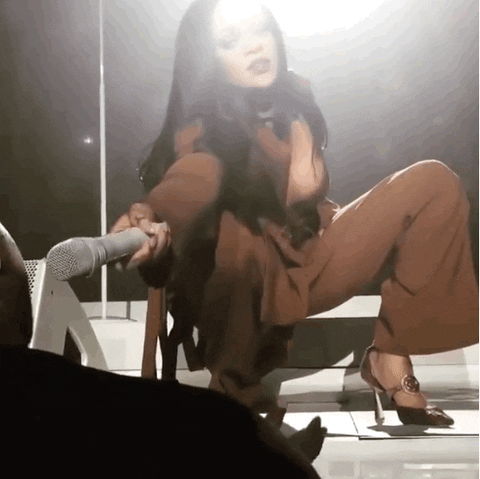 There was also a "party time" segment of the concert, featuring "We Found Love," "Where Have You Been," and "Diamonds." At this point, the stage set had transformed completely from what it was at the beginning of the show. There was a constant flow of foam falling from the ceiling in the back, along with giant, bubble-like decorations full of colorful lights on the stage. Eventually, it was time for the show to come to an end. Rihanna was almost in tears as she said, "I hate this part. I hate goodbyes. So I'm just gonna say it now and then do a few more songs. Is that cool?" So she resumed  and ended with a heartfelt performance of her song "Kiss it Better." This happened to be one of my favorites off the new album so of course I was in tears.
"That Rihanna reign just won't let up."
After four breath-taking outfit changes and what seemed like hours of happiness & endless cheering, the concert was over. Fashion Killa, Caribbean Queen, Robyn Fenty. Rih will always be on top!
Rihanna Navy for life.