December 6, 2015 / 1:50 pm
•
Beautiful Monster – Sky-Pony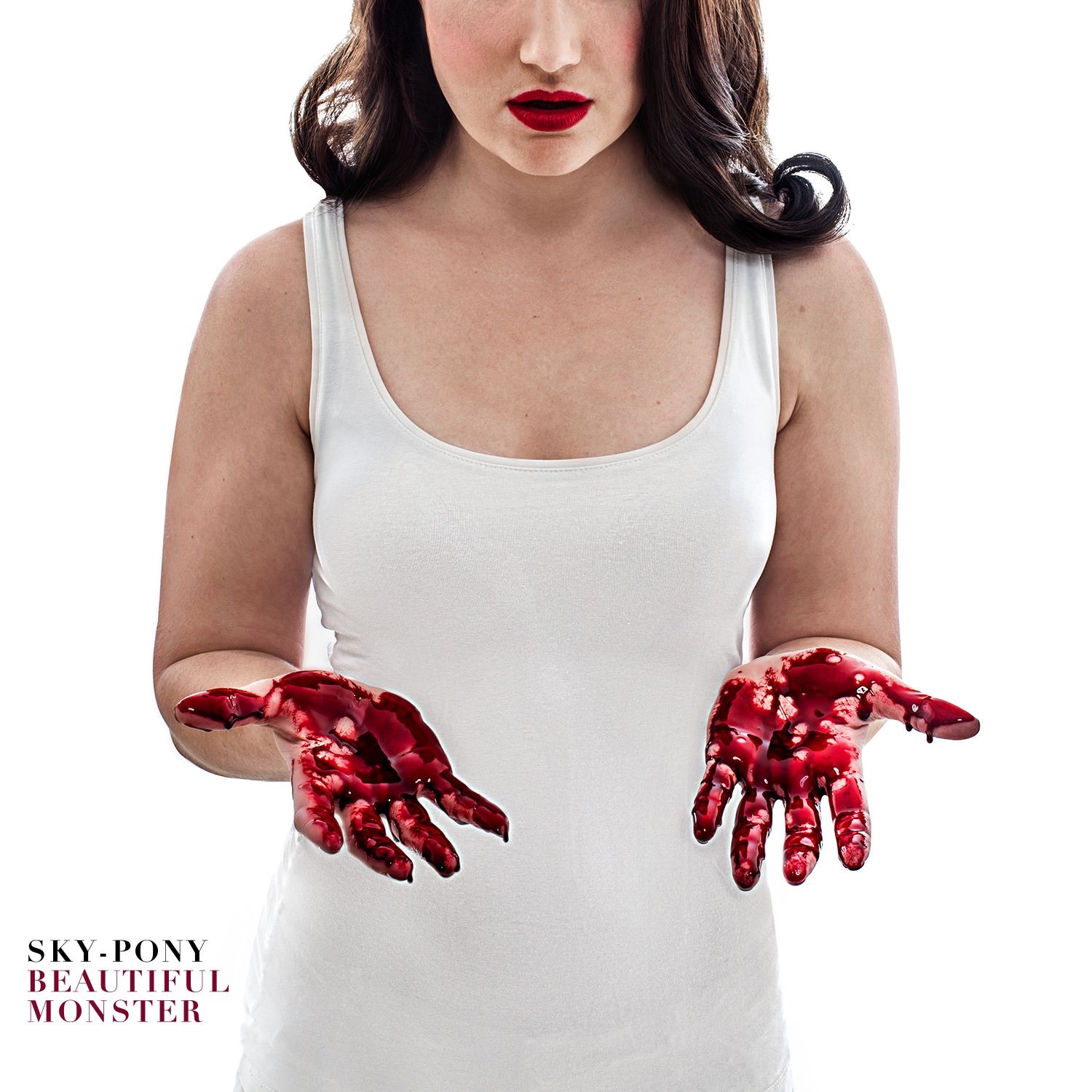 Released: 12/04/15, Knitting Factory
Rating: 6/7
I've been madly in love with Lauren Worsham for nearly two years now, ever since her performance at the 2014 Tony Awards for A Gentleman's Guide to Love and Murder. Hearing classical voices on Broadway that aren't being butchered to death by Andrew Lloyd Webber is a big deal in this day and age. A Gentleman's Guide was a charming and fun Best Musical winner that didn't particularly capture my attention, except through its vocalist-friendly score and the performers who sang it. A quick Google search of Lauren Worsham introduced her to me as a musical theatre actress, a legitimate operatic soprano, and the frontwoman of an indie rock band.
That band is Sky-Pony, the Brooklyn-based brainchild of Lauren and her husband, composer Kyle Jarrow. She won a Drama Desk for playing Phoebe in Gentleman's Guide; he won an Obie for writing A Very Merry Unauthorized Children's Scientology Pageant. I've grown familiar with Sky-Pony through their three EPs and YouTube channel, which has unfortunately been cleaned out a bit. To me, they're a band meant to be seen live. I haven't seen them myself because I'm poor, but their filmed appearances in New York have been performance art as much as musical performance at theatre-affiliated venues like 54 Below and Joe's Pub. Lauren Worsham, Jessi Suzuki, and Kristin Piacentile line up downstage like a '60s girl group in matching garters and false lashes the weight of feather dusters, singing at mic stands with light choreography that recalls the Ronettes, all lit by trippy projections.
Sky-Pony features exactly the sort of instruments you would find in any fringe chamber musical. Kyle Jarrow holds together the whole operation on keyboards and occasionally sings, with Perry Silver and Kevin Wunderlich on drums and guitar. Bassist Eric Day also arranges music for horns and strings, and as a child of string orchestra, his additions make the band for me. But as a professional cellist*, Sky-Pony's cellist David Blasher is my favorite.
Sky-Pony started out with a 6-song EP released in 2012, Say You Love Me Like You Mean It. They're inseparable from the theatrical origins of their founding couple, and Sky-Pony's undoubtedly thrilling live performances and now albums are interspersed with musicals—or rather, "concert-theatrical hybrid experiences." In 2013, they wrote and performed a musical called Raptured, released as a live album called Raptured Live. Their next EP was a short acoustic treat released for free on SoundCloud called Songs of Love and Misery, and they're currently working on their next quasi-musical, due to premiere in February 2016 at Ars Nova.
Beautiful Monster is an eleven-track LP released by Knitting Factory Records, an experimental indie label based in Brooklyn. It features three brand new songs and eight familiar but reworked tracks from their existing catalog. The main question in my mind when listening to Beautiful Monster is of how it compares to their live shows. Two of their three prior releases have been live albums, and I've heard countless variations of almost all of their songs performed through the years. Backing bands and arrangements change, lyrics are tweaked, Lauren may lean toward classical or belting on one day or another, and the production of a studio recording is obviously different from the stage at 54 Below.
"The Watcher" has been on Sky-Pony setlists since 2013 and leads Beautiful Monster as a single. It's a refreshing installment in rock's long and proud tradition of stalker love songs, and its music video made my morning by revealing the subject as a woman. The gayer the better, in my book.
"Regret It in the Morning" and "Beautiful Monster" both made their first recorded appearances on the live acoustic EP Songs of Love and Misery, and I've been looking forward to hearing their studio treatments ever since the track listing for Beautiful Monster was announced. I was most taken aback by the vocal mixing in "Regret It in the Morning." "Sky-Pony" and "girl group" have long gone hand-in-hand in my mind, and hearing Lauren so prominently center stage compared to Jessi and Kristin was jarring. It also features a techno-ish keyboard unusual to the band's live sound, as well as what may be a xylophone.
"Beautiful Monster" was the perfect choice for title track of this record, in my opinion. Thematically, it sums up Sky-Pony's interest in viewing dark subjects through a cheekily romantic lens. Lauren delivers some of her best work on this song, and David Blasher absolutely kills it, especially on the tremolo that underscores Lauren's final "If you leave me / I will tear your heart out / Of your chest." On Songs of Love and Misery, audience laughter and casual instrumentation makes "Beautiful Monster" comic, but in studio, it straddles the line perfectly, much like the balancing act of Sky-Pony's identity.
Of every track on this record, I'm most familiar with "Rapture". It appears on their studio EP, Say You Love Me Like You Mean It, and is the centerpiece of Raptured Live. I confess that its religious overtones were off-putting to me for a while, but it's since become essential to Sky-Pony's repertoire. On Beautiful Monster, Lauren steps back and coos, as opposed to the in-your-face disillusionment of Say You Love Me Like You Mean It and opening number theatrics of Raptured Live.
"Doctor" has been one of my favorites in their arsenal for a long time, and I'm thrilled to have a studio version of it. It's a biting criticism of suburban ennui. In studio, Lauren sounds most at home belting her soul out, and the bridge is a knockout. I would sell a limb to take David Blasher's place, and the girls spit the consonance of"doctor" in the final chorus with extra venom, which is thrilling for the classical singer in me.
As far as I know, "Action Movie" is 100% new, or at the very least written for the album. It's a dreamy ride-or-die love song following a generic action movie plot, featuring a thick wall of strings courtesy of Eric Day, and it's driven toward climax and conclusion by urgent percussion from Perry Silver. Kyle Jarrow makes a prominent guest vocal appearance with Lauren on the chorus, and I've always found his forays into singing especially sweet.
"Seems So Strange" can be heard in its earlier incarnation, "Doesn't It Seem Strange", as early as 2013. On Beautiful Monster, it starts with the string quartet of my dreams. I found "Doesn't It Seem Strange" pretty underwhelming, but the addition of such a lush string section has made it into a gem. The vocalists takes an airier approach to this track, fully flattering the instrumentation.
"Steal Tonight" might be my favorite track, featuring cutesy accompaniment under criminal date propositions. It's adorable: "That's how you make me feel / Like nothing else is real / Like the world is mine / To steal tonight with you." Lauren's vocals are cloying and bright. But the song takes a different, darker turn, with the slightly creepy mantra "I've been waiting such a long time" (an echo of the opening line of "Rapture") repeated over increasingly classic rock-ish guitar, à la "Sweet Child o' Mine". The final "time" ends on a strange, stretched out downward glissando, which I can't say I've ever heard in vocal music. It sounds more like they're mimicking glissando on a violin.
"Vampire" features some more of the girl group vocal dynamics that made me love "Regret It in the Morning", but it isn't a track on this album that I particularly like. Maybe I'm biased, but I have an aversion un-ironic allusions to vampirism. The production is lovely, but I can't get behind the lyrics, which I personally feel are a little cliche, especially the chorus. The rest of it is fine. Maybe it's just my thing about vampires; I was embarrassingly into Twilight in sixth grade.
"Run Away" and "Everyone Will Die" are both nothing new. "Runaway" is the "Rock 'n Roll Suicide" to the Messianic plot of Raptured Live, and features some of the best acting on the album despite the track's extraction from its source material. For Beautiful Monster, Eric Day and Kyle Jarrow have added a stunning string interlude for the bridge. The morbidly optimistic "Everyone Will Die" has long been a staple of the Sky-Pony brand, and Lauren does away with any doubt there may have been as to her ability to front a bona fide rock band as the album crashes to a chaotic brass and guitar finish.
Beautiful Monster is a stunning recording debut which I feel is only held back by incidentally uneven production and the strange transition from intimate New York cabarets to a fully-equipped studio. There's one weird hiccup around the 1:35 mark of "Beautiful Monster" where it seems that a millisecond or two in the word "you" have been skipped, revealing the classical singer's trick of pronouncing vowels weirdly so they sound better. It's super minor, but to me it's a display of Lauren Worsham's vocal flexibility, bringing tried and true technique to a rock album. And Kyle Jarrow's roots in theatrical storytelling run through this album's lifeblood, from the classically-patterned backing band to the narrative undercurrent of each track. It's the sort of genre blending that brings musical theatre to the rest of the world and vice versa.
Website: www.sky-pony.com
Lauren Worsham: laurenworsham.com
Kyle Jarrow: landoftrust.com
Track Listing**:
The Watcher
Regret It in the Morning
Beautiful Monster
Rapture
Doctor
Action Movie
Seems So Strange
Steal Tonight
Vampire
Run Away
Everyone Will Die
* I was once paid $5 to play at a Stephen Sondheim-themed garden party thrown by a kindly old interior designer who went to my church called "Sunday in the Garden with Bill".
** For some reason, there seems to be two versions of the album on Spotify. It's all the same music, with some incorrectly named tracks. This is the right one.